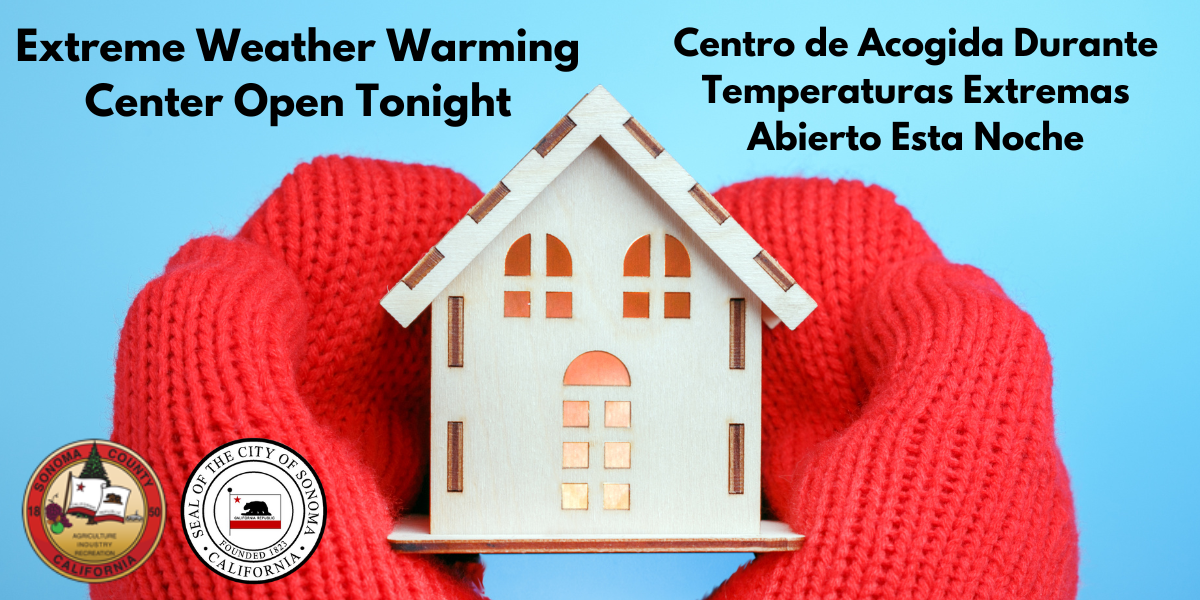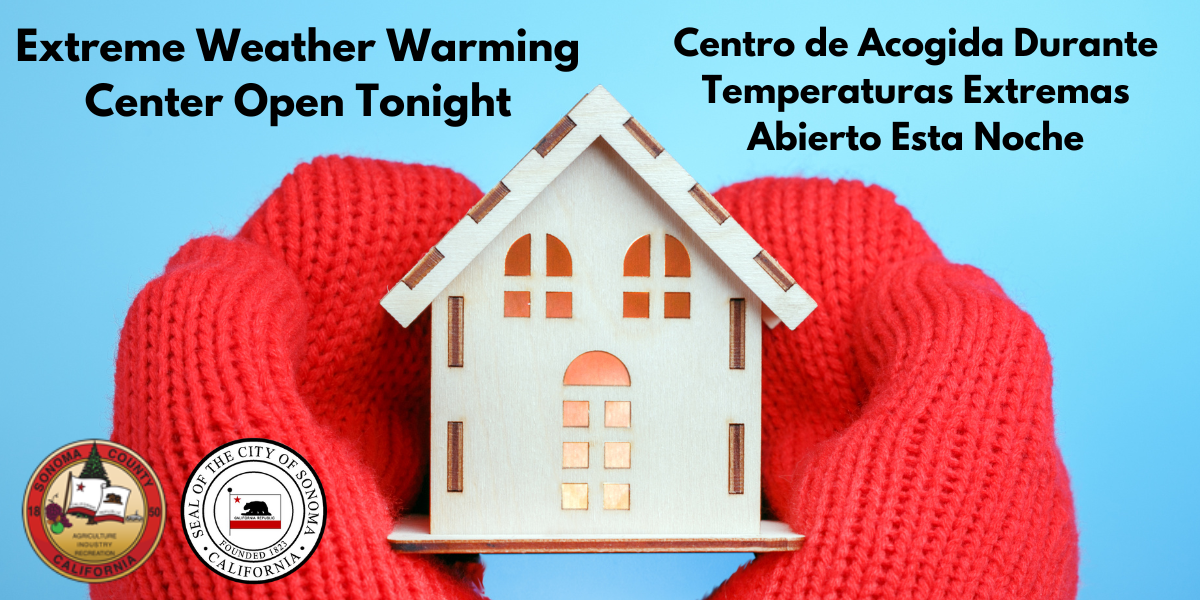 Read the full press release.
The City of Sonoma and County of Sonoma will open a temporary extreme weather warming center for three nights beginning tonight at 7:00 pm at the Sonoma Veterans Building in Sonoma. Based on sub-zero temperatures forecast by the National Weather Service, the center will open nightly from 7:00 pm to 9:00 am the next day.
The warming center will provide shelter for the homeless and without heat. Anyone wishing to use the warming center must arrive between 7:00 p.m. and 10:00 p.m. and will not be readmitted if they choose to leave the center before 9:00 a.m. The warming center is temporary and not a shelter for stay overnight, cots not to be provided.
Details of the heating center:
Sonoma Veterans Memorial Building
126 1st St W. Sonoma, CA 95476
Monday, December 12, 7:00 pm – Tuesday, December 13, 9:00 am
Tuesday, December 13, 7:00 pm – Wednesday, December 14, 9:00 am
Wednesday, December 14, 7:00 pm – Thursday, December 15, 9:00 am
Additional Information:
Masks are required at all times.
There will be no television or radio available, but visitors are welcome to bring, charge and use their own devices.
Light snacks and drinks can be provided.
Ready-to-eat foods are allowed; access to the kitchen will not be available.
The City and County of Sonoma or their contractors will not be responsible for lost or stolen items.
Visitors must abide by the City's Standards of Behavior/Code of Conduct.
The warming center may extend its hours of operation if extreme weather conditions continue.
The warming center is mainly staffed by volunteers. The City thanks our community for supporting this important effort. People who are interested in volunteering at the warming center or becoming an on-call emergency volunteer to help when an emergency or disaster strikes Sonoma Valley are encouraged to sign up at sonomacommunitycenter.org/get-involved/emergency -volunteers/.
For more details on available winter shelters, visit: SoCoemergency.org/emergency
For information on preparing for extreme cold, visit: SoCoEmergency.org