By: Michelle Martin
Source: Special to Michigan News
As a child, Annica Cuppetelli watched her grandmother sew, and that inspired her to pursue a degree program in fiber and textiles. She started as a fashion designer and worked in design-related positions at several large corporations, eventually falling in love with fabric, both the fabric itself and the conceptual meanings behind the materials.
Her passion has led her to create art that brings together the overlapping boundaries of fashion, architecture and fabric, and she shares her experience as a professor at the Penny W. Stamps School of Art & Design at the University of Michigan and the College for Creative Studies. in Detroit. Cuppetelli is particularly interested in exploring how past and present fashion constrains the female figure and ultimately transforms it.
That was the subject of his latest exhibition, "Tight/Laced," which ran from May to September at the Muskegon Museum of Art. Her installation used sewing and patterns to create art reminiscent of corsets: two large funnel-shaped shapes that extended from the walls of the gallery space. By showing how society has used fashion to control women's bodies, Cuppetelli also shows women's ongoing struggle to control their own bodies.
Describe your work and how you use materials borrowed from the processes of dressmaking and fashion design to create sculptures and spaces.
My undergraduate experiences helped me discover how sculpture can live inside or outside the body: it's a hybrid between what happens when a piece of clothing becomes sculpture or sculpture becomes a piece of clothing. The corset was in fashion for 400 years and was controversial. Boning is the reason why the corset is rigid in the way it controls a woman's body. Boning is very constricting, and I want that tension to show in my work: it's the tension of the past and the tension that exists now for women and their roles in society.
How did "Tight/Laced" come about?
I worked on the piece for two years, and the curator was patient with me. My first idea was to have two large tubulars referring to the female anatomy, and I wanted to weave them. But I had never worked with a piece that was 25 feet long. Approaching the deadline is where the a-ha moment happened. I knew I wanted to talk about torsion and tension, and I thought what would happen if I modeled them to show the tension. It has become an installation whose forms are made from wooden frames, fabrics, cords and eyelets. It took a lot of people. I recruited seniors from the U of M to help me with the project—they helped make patterns, cut and sew fabrics, and figure out assembly. It was a big project with many hands.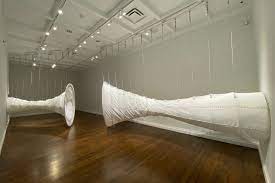 You live in the city of Detroit. Has the city inspired your artwork?
I moved here in the late 90s for undergrad when I was attending the Faculty of Creative Studies. Detroit is very creative, and I think it's influenced me to keep making things because there's a lot of good and a lot of bad, there's a lot to break and a lot to fix. As creatives, we respect the city and give back to it, not taking it away, but trying to grow with it in some way.
What are you working on next?
Right now I'm back in research mode. After making a large-scale piece, it's time for self-reflection to know which direction to go next. I want to give myself time to recover from that piece – I've never done anything this big – and you need to give yourself time to reflect on the smaller things.
What is the most important thing you learned?
One thing that was interesting was the community that happened around it – bringing in former students and calling friends to help paint. It takes a village, a lot of support. It wouldn't have happened without all these other hands. Sometimes artists are very isolated working by themselves and sometimes it's hard to let things go. Getting that help was an invaluable lesson.
Back to News + Stories