The days of being pleasantly surprised by the way a Philips TV performs are long gone, so the Philips 55OLED+907 has a lot to live up to. Lately, the company has been very successful in offering high-performance, great value TVs (with a specific and unique selling point, not to forget). This close Its excellence should be taken for granted. The only surprise we get these days seems to be of the unpleasant variety – the prospect of Philips TV competing and not competing hard.
Design and build: Give it a spin
While it sounds exceptional in almost every way, there's something about the way the Philips 55OLED+907 presents itself that lets you know that no other brand can.
Admittedly, saying 'Philips' on its compact, metal pedestal lowers the game somewhat. But then again, it also says 'Bowers & Wilkins' – and no other TV brand has such a flawlessly reliable audio partner (Panasonic's association with Technics doesn't count – they're both part of the same company). So already, curiosity has been piqued about what's hidden behind that soundbar-style enclosure at the bottom of the screen.
The stand itself allows the screen to rotate. This might not sound like a big deal when written down – because it isn't – but it's a first for the latest Philips TVs. Rotating the screen 30 degrees is definitely an improvement over manually picking it up and putting it back down.
Ambilight isn't uncommon among Philips TVs, but what everyone else lacks. The OLED+907 has it on three sides of the back of the chassis, and in its next-gen look, Philips is more detailed and better defined than before. Even if it's similar to the company's previous efforts, it's an exceptionally solid way to make the screen a little bigger, the images a little deeper, and the overall experience a little more relaxing.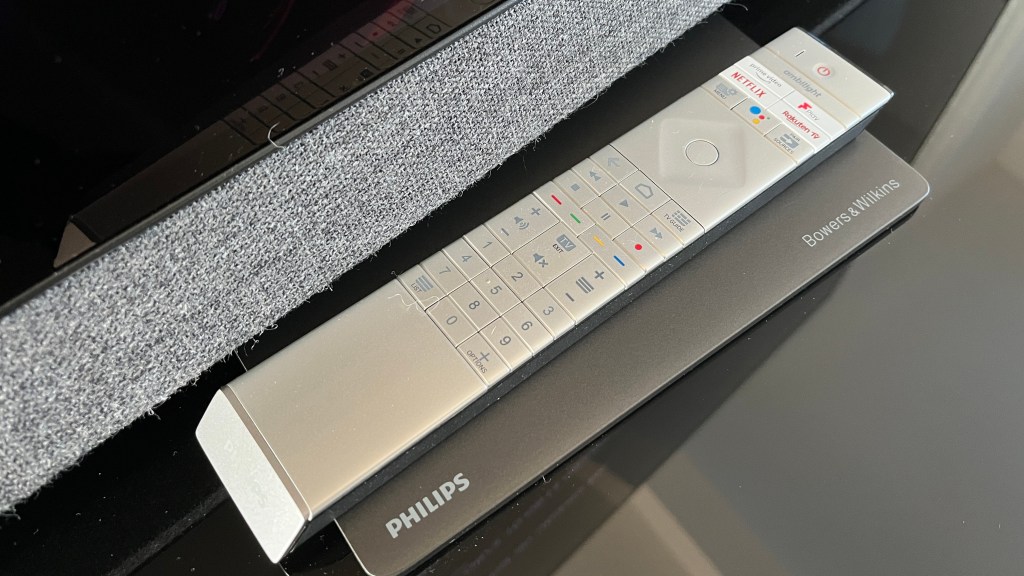 Some thinness is evident here, which has always been a big part of the appeal of OLED TV technology, but in general, the 55OLED+907 is 69mm deep – so it's not a wall-hung TV. Build quality is decent, from the metal stand and flawlessly finished bezel joints to the tactile feel of the plastic (relative) that makes up the back of the chassis. The acoustic fabric covering the Bowers & Wilkins speaker-driver enclosure is beautiful and strong. The plastic cover, which aims to hide the TV's physical inputs and provide some cable management, is, as usual, a failure here – the venerable Heft uses more than two cables and then sees how long the cover lasts.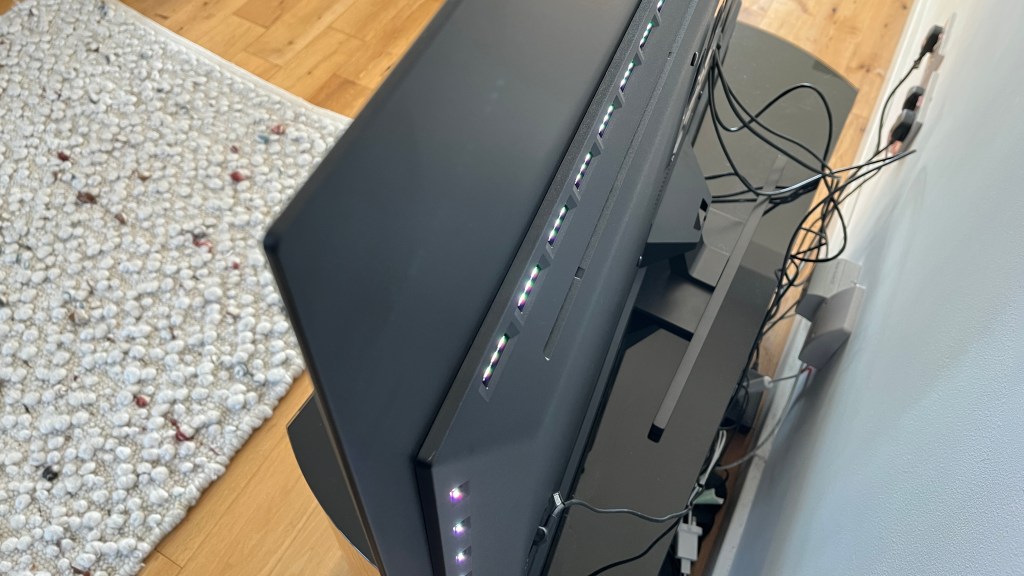 Features: HDR-est around
Since this 4K OLED TV is a Philips product, it's compatible with every useful HDR standard – meaning both HDR10+ Adaptive and Dolby Vision, while everyone else on the Panasonic bar only covers one or the other. So, already, the 55OLED+907 is ahead of any nominal competitor.
Of course, it doesn't matter how many HDR types your TV can handle if its image processing isn't up to standard. Happily, Philips has used its proven P5 processing engine here – and it's got AI Smarts degrees, so (in theory, at least) it should learn and improve as you go. The drive for better picture quality is further demonstrated by the number of picture presets available, including the IMAX-enhanced and inexplicably popular Movie Maker mode. The OLED panel is one of LG's new super-bright 'Royal' panels (the first time 'bright' and 'royal' have been used in the same sentence in a while), which promises to address perhaps the most significant shortcoming. Technology: Brilliance or lack thereof.
Wireless connectivity is taken care of via Bluetooth 5.0 and dual-band Wi-Fi, and Chromecast is also available. As for physical inputs, two of the four HDMI sockets here are 2.1 standard, ready to take advantage of every smart feature of your current-gen games console, and one is eARC-compatible. The OLED+907's pair of TV tuners each have three USB slots, an Ethernet socket and an aerial post. Outputs include a digital optical socket and a pre-out for a loudspeaker.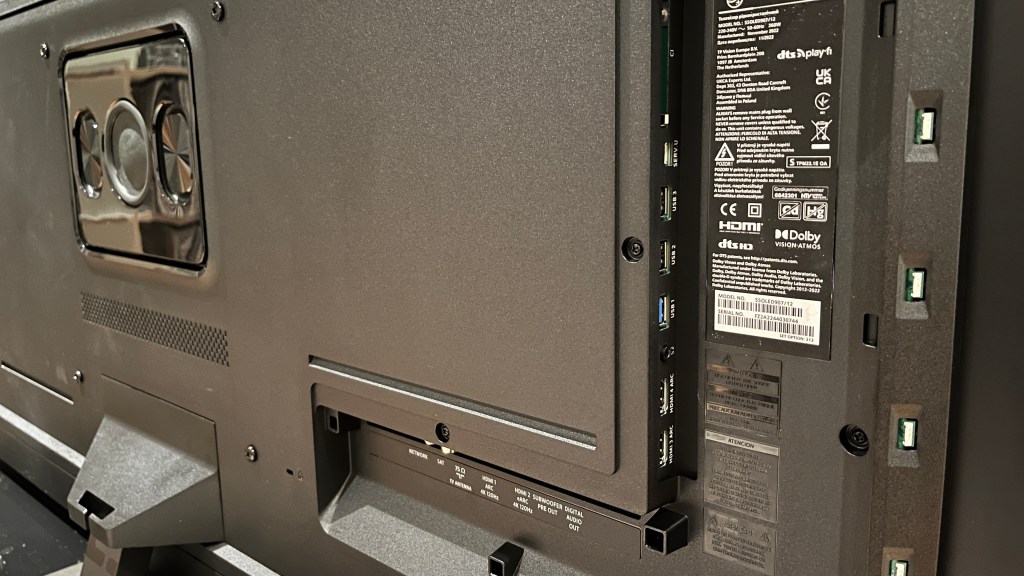 The TV's Bowers & Wilkins-made audio system is compatible with Dolby Atmos – but only in the 'I understand Dolby Atmos' way, not the 'I can give the impression of spatial audio' way. Nevertheless, it's a fully specced and detailed 3.1 system, with one exposed, rear-firing subwoofer (backed by two passive radiators) and six more drivers facing forward from behind that acoustic fabric. The all-in power output of 80 watts is significant by the standards of integrated TV audio systems, and Philips suggests the system is sufficient to negate the need for an external soundbar.
If you decide to take advantage of the TV's DTS Play-Fi compatibility, this screen's audio system will hopefully be in good shape. Any of these appropriately specified devices can be grouped together to create a multi-room audio system, and there are also multi-channel home cinema possibilities.
Interface: Setup and Optimization
Unlike some of the more expensive TVs these days (and many affordable ones too), the Philips OLED+907 ships with a remote control handset. Still, it's good, with realistic-sized buttons on one side and a nice piece of standard Muirhead leather on the other. It also has some neat backlighting.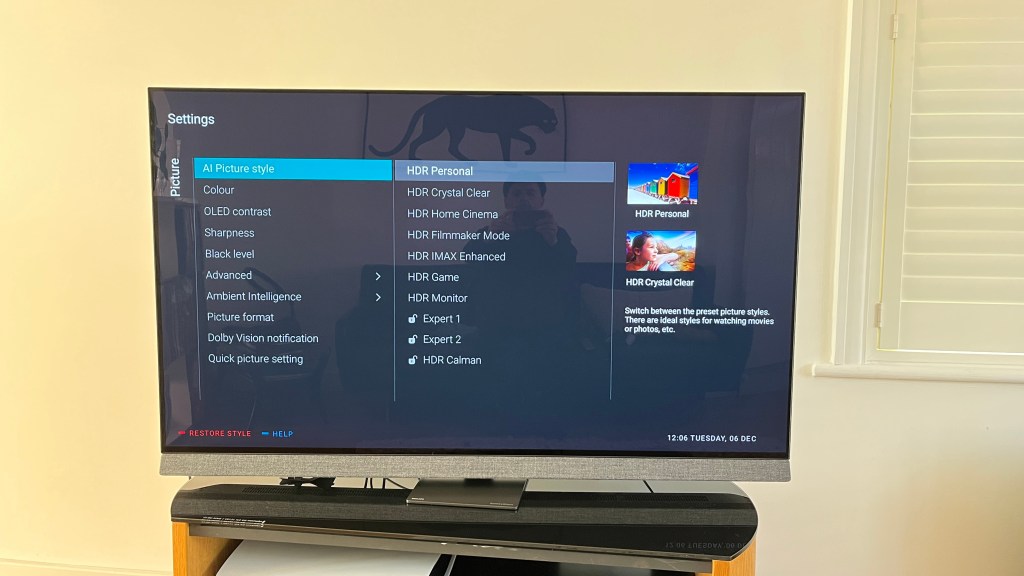 One of these perfectly sized buttons activates the handset's integrated mic – the OLED+907 is compatible with Google Assistant, and this way the instructions given are understood and acted upon reliably. Amazon Alexa users, meanwhile, need to have an Alexa smart speaker on a common network to operate Philips using their voice.
The smart TV interface here is Android 11 – and as usual with Android TV, the cons are as plentiful as the pros. The case for safety centers on the comprehensive nature of its catch-up and streaming service apps, while the case for how tactile its recommendations are and how much screen it takes up when activated. Anyone who has used a Philips TV in the past ten years will know that setting up the screen can be a time-consuming and occasionally annoying process. Philips has always liked to give the end user more input into how its TVs perform – so if you're after something that looks sleek out of the box, the OLED+907 might not be the TV for you. If you're willing to put in the leg work, you can reap the benefits – the next part will be obvious…
Performance: Punchy pictures, great sound
You've done the legwork in the set-up menus; You've spent who knows how much time getting motion-control, noise-reduction and all the rest. Time to settle in front of the 55OLED+907 and put it through its paces.
For broadcast TV, there is no more severe test than the World Cup in Qatar, which is underway at the time of writing. Ignore the many issues surrounding the entire event (if you can, for a moment), and instead enjoy how confidently and confidently Philips handles the many challenges that broadcasting poses. BBC iPlayer games stream in 4K with HLG, and with unpredictable and heterogeneous screen motion, large areas of uniform color, many and varied skin-tones and textures to display, the opportunities a television struggles with are many and often.
The 55OLED+907, however, can't really put a foot down. It can handle fast motion as confidently as slow pans, and it doesn't get confused when on-screen action moves in a different direction to the camera's movement. It can define edges with real precision, detect huge amounts of detail in colors, take full-screen values ​​of green and detect variations and contrasts in it. Image-noise is very low, the color palette is wide and natural, and a remarkable depth of field is available.
It goes without saying that the OLED+907 produces beautiful, deep black tones – but its ability to deliver contrast within them and intelligibility even in dark scenes is nothing to sniff at. Contrasts are wide and solid, combined with white tones that are as bright and equally detailed and nuanced as the 'Royal' panel promises.
This delightful ability is proven even stronger during bog-standard-but-mildly-entertaining-nonetheless viewing. A man from Toronto. The stark contrast between bright desert skies and the Dodge Charger's glossy black paint is palpable, and Philips allows deep black tones to coexist with bright whites without losing its serenity. The overall color palette needs attention during the set-up process, of course, but it's impossible to achieve anything less than properly impressive contrasts.
While there isn't quite the 'blow your socks off' type of sound here that you might expect/expect, it's impressive enough to suggest that a soundbar isn't remotely necessary. The Bowers & Wilkins arrangement produces remarkably deep and well-controlled low frequencies, projects dialogue in the midrange above the rest of the action, and has enough bite in the top end to allow an action movie full, explosive expression. Detail levels are high, soundstage is solid if not particularly expansive, and tonality is smooth and consistent from the bottom to the top of the frequency range. There's enough dynamic heft to make those action movie set-pieces look properly startling, but enough subtlety to allow for Jonathan Demme's finesse. Stop making sense obvious.
With the PlayStation 5 connected to one of the HDMI 2.1 inputs, all the goodies discussed above carry over. The 'HDR Game' mode can feel edge-defining smoothness in the busiest moments in the name of low latency. A great gaming monitor that goes well.
Philips 55OLED+907 verdict
A bargain is no one's idea, however the Philips 55OLED+907 is money well spent. For once, here's a TV with audio quality that matches the picture quality – and there's no doubt that the picture quality available here is quite impressive. Resign yourself for the long haul during the initial set-up and you'll never look back.