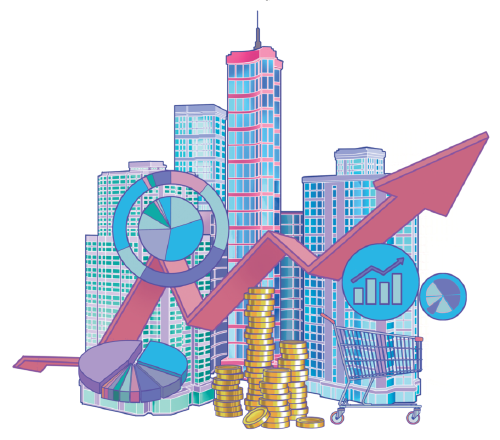 China's economy is very resilient and still has great potential due to its strong economic fundamentals. Therefore, China's economy is expected to grow in the long run.
But to realize national modernization, China must harmonize its economic development with that of civilization. This will help accelerate China's industrialization, urbanization, informatization and social development.
Despite China being the world's largest manufacturing power, some of its industries are not as competitive. As such, China needs to upgrade its manufacturing sector – by elevating its goods and services from "Made in China" to "Created in China" – and pursue intelligent manufacturing.
Looking ahead, any further developments related to Chinese manufacturing will be in line with the country's urbanization. Judging by international experience, a country enters the modernization phase when its urbanization rate exceeds 70 percent. In the case of China, however, the permanent urban population nationwide accounts for only about 45 percent of the total population. And if the rate of urbanization increases by 1 percentage point per year, China will need to ensure continuous economic development for more than 15 years to basically achieve modernization.
In the long term, strong and diverse supply and demand chains will ensure China's sustainable development and help link industrialization and urbanization. As the country's urban settlements continue to expand, the expansion of urban and rural fringe areas will necessitate the creation of many new districts. Infrastructure in existing central business districts and new districts that will emerge will require improved connectivity, which will require skilled talent, industrial upgrading and integration.
Although supply and demand chains face risks and uncertainties, they still reflect the great potential of China's economy. Nevertheless, China must deepen reforms and expand opening up, create a high-quality business environment based on the law, and establish a unified national market in which the rights of all subjects are protected and unfair competition and monopoly are eliminated. Efforts should also be made to integrate urban and rural development and address the problems caused by different administrative systems in rural and urban areas.
While foreign companies can benefit from shortening the negative list, local governments should work to strengthen and optimize their governance to develop favorable business conditions and promote high-quality business.
It is also necessary to provide direct financing in the multifaceted capital and financial market so that large companies and small and medium-sized companies can achieve mutual benefits.
And now that China's real estate sector is well past its golden age, the real estate market is likely to face more uncertainties and challenges – there is even a possibility that the real estate market will fall further. It is true that the real estate market is relatively stable, but the road to recovery will take time.
Fiscal sustainability is another major concern for China. The separation of fiscal powers and responsibilities for central and local government expenditures has benefited all parties in recent years. Also, a clear division of responsibilities between them ensured that they exercised their fiscal powers properly. For example, central and local governments work together to provide public goods such as health care, transport and compulsory education for people according to regulations.
It cannot be denied that some regions are facing financial constraints due to the effects of the COVID-19 pandemic, but the country is confident that it will overcome the challenges thanks to the valuable experience it has accumulated in more than four decades since the beginning of reforms and opening up.
There is therefore ample reason to believe that China's economy will recover faster than expected and continue to grow in the post-pandemic era, despite greater risks and more complex challenges.
The author is the chief economist of the Chinese Academy of New Supply Economics.
The opinions expressed here are those of the writer and do not necessarily represent the views of China Daily and the China Daily website.
If you have special expertise or would like to share your opinion on our stories, please send your writing to opinion@chinadaily.com.cn and comment@chinadaily.com.cn.