Almost the entire state is covered in clouds on this second Sunday in December. There may be a bit of sun filtering into the far southeast of the state around Dothan, but that's about it.
Visible satellite imagery shows a combination of high and low clouds moving across the state.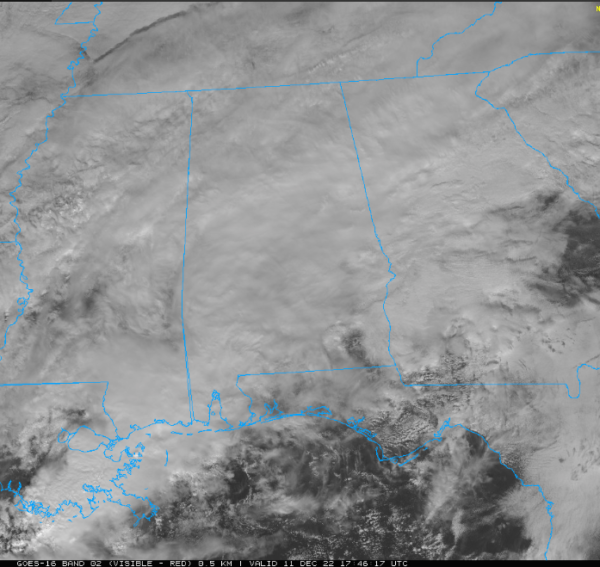 A little fun fact: look at that darker region on the satellite over western Tennessee…it looks almost like a fold in the photo. Do you know what it could be? It is a shadow cast by high clouds on the lower deck of the stratum.
It's time to have some fun with the seasons plots. Here's the current weather over Alabama and the surrounding states in diagram form from Tim Vasquez's excellent Digital Atmosphere program.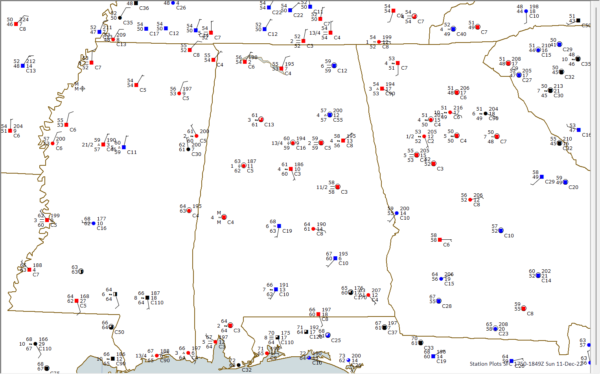 Can you point to some of the current weather that is occurring throughout the region?
Here's a little primer: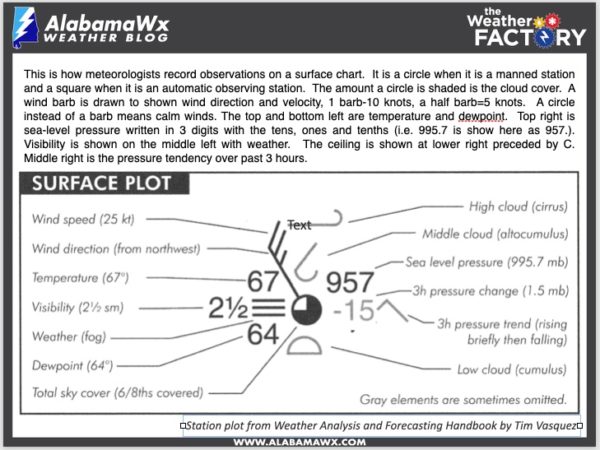 Another note, the blue circles and squares indicate Marginal Visual Flight Rule (MVFR) conditions for pilots and the red ones indicate Instrument Flight Rules (IFR).
* MVFR is 1000 to 3000 foot ceilings and/or 3 to 5 mile visibility.
* IFR is ceilings of 500 to less than 1,000 feet and/or visibility of 1 mile to less than 3 miles
Temperatures are in the 50s in northern Alabama, 60s in most of the rest of the state. Andalusia was at 70F.
Radar is busy this afternoon. The rains are heaviest over eastern Alabama.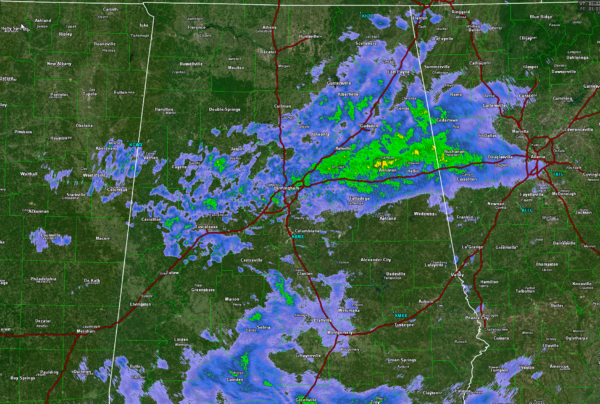 I only collected 0.07″ of rain from previous rains.
The showers will ease over northern Alabama by evening, into central Alabama overnight, but won't be completely out of our southeastern sections until Monday morning.
It looks like there could be some showers tomorrow in the southern half of Alabama based on the models. Those showers may return northward Monday night in the form of a warm front. Highs Monday will be near 60F over the Tennessee Valley and in the 60s elsewhere.
We'll be updating the rest of the forecast in a few minutes. Let me tell you before 2. Have a good afternoon.
Category: Alabama Weather, ALL PUBLICATIONS
About the Author
(Author's profile)
Bill Murray is the president of The Weather Factory. He is the site's official weather historian and weekend forecaster. He is also the anchor for the site's severe weather coverage. Bill Murray is the proud holder of the National Climate Association digital stamp #0001 @wxhistorian